SingleCare
Free SingleCare Prescription Discount Cards available.
Giving Everyone a Better Quality of Life Through Affordable Prescription Medicines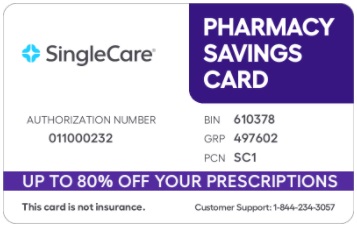 SingleCare is a national community service program that is improving the health and financial stability of millions who are uninsured or underinsured. Our goal is to ensure that everyone has access to affordable prescription medications.
Today, close to ½ of adults or 80 million people have no prescription coverage or inadequate coverage. Even after the affordable care act, more than 60 million Americans will still be uninsured or underinsured. And sadly 60% of uninsured Americans do not fill their prescriptions because they can't afford them.
SingleCare, in partnership with United Way Worldwide and close to 1,000 United Ways across the country, have helped more than 7 million people save over 700 million dollars on the cost of their medications, often saving as much as 75%. Average savings are about 40%. SingleCare is able to achieve significant discounts on prescriptions through creation of a large umbrella buying group. SingleCare negotiates the lowest prescription prices possible with the pharmacies and passes 100% of the savings on to anyone who presents the SingleCare card. The SingleCare card covers all FDA-approved prescription medications, and is accepted at over 60,000 pharmacies across the country. The card is free and all funding for the program is provided by part of the dispensing fee that is included in the cost of medicines.
SingleCare provides tools and information to help support members including a Drug Price Look Up Tool and Pharmacy Finder along with valuable resources that can be found along with the SingleCare Card at SingleCare.org or on our new Mobile App.
SingleCare is making prescription medicine more affordable, offering relevant information and creating connections to unprecedented community support. SingleCare is changing lives by giving everyone who needs help the strength to enjoy a better quality of life.
Live Healthy, Live Smart.™
SingleCare cards can reduce prescription drug costs by an average of 35%.
Free Cards
Anyone Can Use It - Anonymous
No Application or Activation Needed
Good at 60,000 Pharmacies
Use for All FDA Approved Medicine
Pass on 100% of discounted savings
Drug Look-Up Tool in real time
Who Needs a Card? The Uninsured and Underinsured
UNINSURED
ANYONE without health insurance or Medicaid / Medicare / Veterans Benefits
INDIVIDUALS AND FAMILIES
Parents whose children qualify for SCHIP (State Children's Health Insurance Program) but who don't qualify for any assistance for themselves
College age children – or children living at home who are no longer covered due to age
Family members not covered by employer-provided health insurance
EMPLOYEES
Employees of small businesses that don't offer insurance
Employees who can't afford their share of the insurance premium or decline coverage
Part-time or minimum wage employees
Laid off employees who can't / don't take advantage of COBRA
UNDERINSURED
ANYONE whose medications are not covered by their plan
INDIVIDUALS AND FAMILIES
Who have high deductibles and waiting periods
Whose plan does not include prescription coverage
Whose medication is not covered by their plan
Whose co-pay is higher than the discounted SingleCare price
Whose plan is limited or only covers catastrophic coverage
EMPLOYEES
In deductible or waiting periods before they are eligible
Employees who take medications that are not covered by their insurance plan
PEOPLE IN THE "MEDICARE DONUT HOLE"
Medicare recipients without a Medicare Part D Prescription Plan
Medicare Part D Prescription Plan enrollees without "Medi-Gap"
Look up the Discount Price for your Medication Here