Volunteer Board Member – 4 Vacancies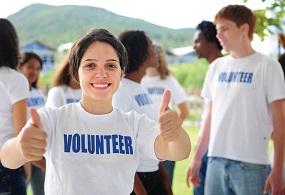 Navajo United Way (NUW) is a 501(c)(3) organization dedicated to empowering and supporting human care organizations that serve to improve the lives of the Navajo Nation and neighboring communities. NUW strives to support and promote excellence in health, education, income stability, and other social service needs. NUW is seeking four (4) candidates to serve as Volunteer Board Members on NUW's Board of Directors. The NUW Board of Directors comprises leaders from various industries who are dedicated to the organization's mission. Our board members champion the importance of exceptional board leadership and believe each organization needs a proactive, strong, and effective board to realize its potential. In addition to the standard roles and responsibilities of a board member, our board members are advocates and ambassadors for the organization in identifying and securing financial resources and partnerships necessary to advance NUW's mission.
Board members are expected to:
Have the financial acumen to read and understand NUW's financial statements and to help the board fulfill its fiduciary responsibilities.
Attend at minimum, four (4) regular meetings held quarterly, and other special meetings, and to actively participate in discussions.
Serve and actively participate in one or more committees of the board.
Actively engage in identifying, referring, and securing financial resources necessary for NUW to achieve its mission. Board members are expected to facilitate and leverage personal relationships and connections to help identify and solicit potential funders, as well as invest in NUW's work by making a personal contribution each year.
Represent NUW to their respective communities and to advocate for NUW's mission, programs, and services as appropriate.
Advise and guide the Executive Director in the development and implementation of the NUW's organizational plan, establishing goals and objectives, and leading volunteer activities.
We are currently recruiting diverse leaders with knowledge and expertise in the following areas:
Fundraising
Marketing
Networking
Legal
Information Technology
Board terms are three-years with an option to serve two-terms. Members are not compensated and are encouraged to make recurring financial contributions to the Community Benefit Fund or to the area of greatest need. Interested candidates may submit a letter of interest and resume. Letters of recommendation are acceptable but not required. Packets should be submitted to:
Navajo United Way, Inc.
Attn: Dr. Laura M. Mike, Executive Director
PO Box 309
Window Rock, Arizona 86515
Email: nuwdirector@gmail.com
Fax: (928) 871-6663
Physical Address: 40 Window Rock Loop Road